Last year we highlighted five Bay Area Jewish educators leading with equality and pride. Their work alone has made an enormous difference to countless local gender expansive children, and adults, and their loved ones. This year, we want to shine a light on San Francisco's Jewish day school, The Brandeis School of San Francisco. Angela Dalfen, their Director of Admissions, helped us by answering these questions about their journey to full inclusion, and how they are striving to support the healthy development of identity for all children.
What programs or educational frameworks do you have in place that embrace gender expansive youth?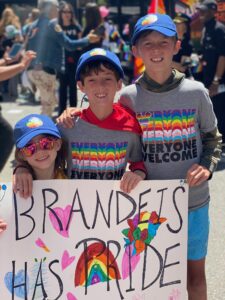 We are committed to weaving a great deal of gender education into our lesson plans and programming, and I am particularly proud of the way our health and puberty education curriculum discusses the range of ways that gender can be expressed during adolescence and beyond. Keshet, an organization that works towards full LGBTQ inclusion in Jewish life, regularly visits campus to present to middle school students, teachers, and parents. Lit Circles, a literacy program for students in 2nd – 5th grade, includes books with gender non-conforming characters. 
In addition to this, our middle school dress code does not have separate policies for girls and boys; all students adhere to the same rules for what kinds of clothing is appropriate to wear at school. Every restroom on campus is single-stall or all-gender, a change that was instituted in response to student-led advocacy. 
Are pronouns used by middle schoolers or faculty/staff? If so, how is that integrated into creating a gender affirming community?
Faculty and staff are required to indicate their pronouns in their email signature blocks, and middle school students can select their preferred pronouns in MyBrandeis, our online learning portal. Also, at our Kickstart to Middle School (an all-student gathering) students are asked to indicate their preferred pronouns, including how and when they would like to be addressed as such.
How does Brandeis create a culture of belonging for families with same-sex parents, as well as students, faculty and other community members that identify as LGBTQiA+?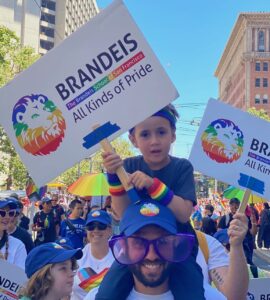 Brandeis sponsors and organizes a contingent of Brandeis community members to march in the annual SF Pride Parade. The Pride flag flies in our courtyard year-round, alongside the flags of Israel, California, and the United States. 
Mother's/Father's Day are not celebrated or observed in classrooms. Books and stories read in classrooms include a variety of family structures, including same-sex parents. LGBTQ adults are visible members of the faculty, school leadership, and Board of Trustees. Finally, in June (and all the time, really!) our library displays a variety of LGBTQ/Pride-related books and materials accessible to all children. 
These are some of the visible ways in which we create a culture of belonging for LGBTQ individuals, and as Director of Admissions, I especially want to mention that all school application materials and forms allow for various kinds of family structures and parental relationships. 
In what ways do the faculty and leadership of the school align Jewish values and Jewish education with LGBTQiA+ identity and rights?
Our curriculum is guided by five Enduring Understandings, one of which is B'tzelem Elohim, the notion that we are all created in God's image. Students (and all community members) are expected to treat every person, and themselves, as though they are in possession of divine qualities, deserving of the utmost respect at all times. In parallel to this, Ms. Baumer, one of our middle school Judaic Studies teachers, is known for using ancient and modern text interpretations to show students how God can be understood as "the original non-binary." She is looking forward to introducing her students to a brand new Tanakh translation recently released by Sefaria, that eschews gendered pronouns for God.  
I also want to share that our 7th grade Tzedek Project, an award-winning year-long exploration of local nonprofits (and Jewish approaches to philanthropy in general) includes a variety of LGBTQ organizations. 
Hebrew is a very gendered language. Is there any way that the school calls students or faculty to the Torah or recognizes them using gender neutral language?
We use "B'nai" when talking about any Bar or Bat Mitzvah celebration or programming or in order to be inclusive of all students. And we actively use the plural in Hebrew (atem, hem) for anyone who uses they/them pronouns. This is made explicit in all Hebrew classes. 
What is your favorite book, used in classrooms or the school library, that reflects gender diversity, or diversity of sexual orientation?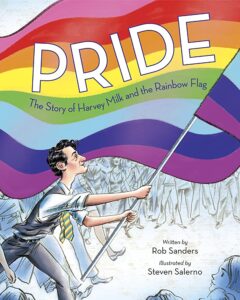 PRIDE: The Story of Harvey Milk and the Rainbow Flag by Rob Larson! A beautiful poster titled "Hineni" honors Harvey Milk and hangs outside the entrance to our school library. It reminds our students of the importance of being proudly visible as a Jew, and an activist for LGBTQ rights.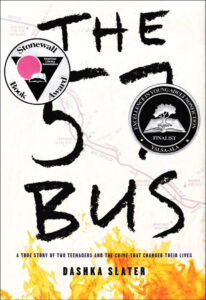 Our rising 8th graders also read The 57 Bus by Dashka Slater, a harrowing but exceptional book about race, class, gender, crime and punishment, and empathy. I recommend it for adults as well!
Thank you Angela for sharing everything you are doing at The Brandeis School of San Francisco to make Jewish life and LGBTQiA+ inclusion and belonging an integral part of your school's mission. 
If you would like to ask Angela Dalfen other questions about the school's approach to diversity, equity, inclusion and belonging, you can reach her at adalfen@sfbrandeis.org.