By Ellen Lefkowitz, Jewish LearningWorks Senior Educator
What comes to mind when you think of an orchard? It is a place teeming with life, full of potential for new growth, and oftentimes rooted in a rich history of the land on which it sits. As a metaphor, the Orchard calls to mind an ecosystem in which many distinct trees produce fruit, whilst sharing resources and contributing to the greater good.
"We think of the Orchard as a place to grow; a place of renewal; a place of connection"

– The Orchard
Here, teachers and school leaders are connected to a national network of early childhood educators and together engage in deep learning experiences and inspired teaching and learning. 
Jewish LearningWorks is proud to be one of twenty-five organizations from around North America that bring you the Orchard—a joint initiative that celebrates, networks, and advances the professional learning of educators in Jewish early childhood centers.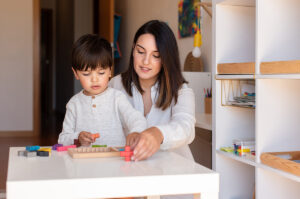 Over the course of this year, the Orchard will offer a vast array of virtual professional development opportunities for teachers and leaders in Jewish early childhood centers.
For teachers, there are a variety of workshops on teaching the Jewish holidays, to child development and pedagogy, and teaching American holidays through an equity lens. For school leaders there are webinars on supporting staff, working with families, and expanding their own knowledge of best practices in the field. The power of this model for professional development is built upon the notion that our Jewish early childhood community is stronger when we support, challenge, and inspire each other to grow and learn. 
As we begin a new school year that is ripe with possibilities and opportunities for growth, we celebrate a year of learning not just for our students but for the educators who are continuously strengthening their craft to create meaningful learning experiences for each and every child. 
Be sure to check out The Orchard to see all of the wonderful learning opportunities available.
Early Childhood Educators
If you want to learn more about this effort or find out how Jewish LearningWorks can support you as an early childhood educator, please contact Ellen Lefkowitz at ellen@jewishlearning.works.