"Always choose influence rather than power. It helps change people into people who can change the world." – Rabbi Lord Jonathan Sacks z"l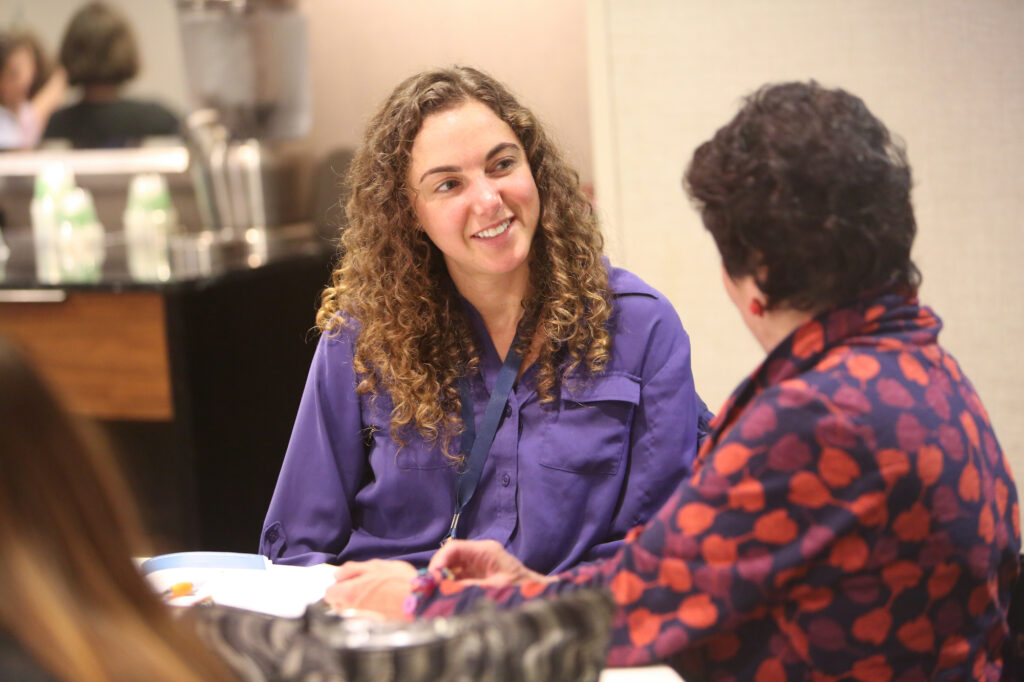 Embrace your true leadership potential and discover where ancient wisdom meets contemporary leadership practices.
Our comprehensive program combines the rich tapestry of Jewish values, visionary coaching techniques, and the unique dynamics of the Bay Area to empower you to become an exceptional leader, both personally and professionally.
Leadership Coaching, at-a-glance:
Aimed at: professionals working for Jewish communal organizations. 
Enrollments: On a rolling basis until placements for the 2023-24 program year are full.
Coaches: Offered by an array of well-regarded, professional coaches from across the United States.
Participant fee: The cost for 10 coaching sessions is $2,000. A generous subsidy provided by Jewish LearningWorks' donors lowers the total participant fee to $1,500. Some exceptions apply.
Apply today. Limited spots available.
Why choose our Leadership Coaching program?
Ignite Your Vision: Our expert coaches will guide you through transformative processes, helping you tap into your authentic leadership style, and pave the pathway to the vision that aligns with your Jewish values.
Masterful Skills Development: From effective communication and strategic decision-making to team-building and conflict resolution, our program equips you with the essential leadership competencies to make a lasting impact.
Addressing Burnout: The Jewish community needs quality professionals to lead, educate, nurture, and build healthy and thriving organizations. Whether you work in a school or other organization, coaching can give you the time and resources to increase your stamina, capacity, and well-being in order to give to your professional life. As we strengthen the talent pipeline, we also want to reinforce the talent that is currently serving.
Customized Approach: Benefit from one-on-one coaching sessions tailored to your unique needs and aspirations, ensuring a truly transformative experience that resonates with you.
Expert Guidance: Our team of seasoned coaches brings a wealth of experience and expertise to the table. With a deep understanding of Jewish culture and the dynamics of the Bay Area, they are uniquely positioned to guide and inspire you along your leadership journey.
What participants are saying
"I'm such a fan of this support. Marissa is exceptional at what she does, and being able to gain access due to your program has made an immense impact on my work." – Aleeza Lubin, Upstart
"My coach is such a thoughtful listener. She would ask open-ended questions, check for understanding regarding what she heard, and guided me to practical steps to put into practice. She gave me "homework" to keep me on track and moving forward, and also reviewed goals to make sure she was supporting me as needed in my role. The coaching sessions were open enough to share updates and new challenges and structured enough to determine best action/next steps to address items discussed." – Denise Crevin, The Shalom School
"I don't think that I would be where I am now professionally without my coach's help this year – I am deeply grateful for this program and will continue to speak of it highly to all of my colleagues." – Hadas Rave, Temple Sinai
"This coaching opportunity came at a critical juncture in my career and leadership. I was able to leverage the coaching to improve my current work situation, identify and address issues in my leadership, and make the most of a sabbatical offered through my work." – Aliza Mazor, Upstart
How to apply
Join our Leadership Coaching program today and embark on a transformative experience that will shape the course of your career, and leave a lasting legacy.
To begin your coaching process, please complete this inquiry form. Please direct questions to Liora Brosbe at liora@jewishlearning.works.
Leadership Coaching refund policy
Your coaching fee is non-refundable. You will be entering into a professional coaching contract with your coach which includes scheduling and coordinating sessions directly with your coach. As a result, please be sure to follow your coach's policies for rescheduling or cancellation deadlines.
If for some reason your coach is no longer able to provide the number of sessions per your agreement, Jewish LearningWorks will work with you to arrange a refund of prorated sessions or work with you to receive services from another coach.