Presented by Michael Frank
Click here to register for this virtual Jewish Community Library event.
With nearly a century of life behind her, Stella Levi had never before spoken in detail about her past. Then she met Michael Frank. He came to her Greenwich Village apartment one Saturday afternoon to ask her a question about the Juderia, the neighborhood in Rhodes where she'd grown up in a Sephardic Jewish community that had thrived there for half a millennium. Neither of them could know this was the first of one hundred Saturdays that they would spend in each other's company, as Levi traveled back in time to conjure what it felt like to come of age on this luminous, legendary island in the eastern Aegean. ​Levi's personal history is set against a darkening historical stage, with Rhodes ​​officially becoming an​ Italian​ colonial possession in 1923, until the Germans seized control and deported the entire Juderia to Auschwitz in July of 1944.
Levi's stories reveal what it was like to grow up in an extraordinary place in an extraordinary time—and to construct a life after that place vanished. Winner of two National Jewish Book Awards and named one of the ten best books of 2022 by the Wall Street Journal, One Hundred Saturdays is a portrait of one of the last survivors, drawn at nearly the last possible moment. It is also an account of a tender and transformative friendship that develops between storyteller and listener as they explore the fundamental mystery of what it means to collect, share, and interpret the deepest truths of a life deeply lived.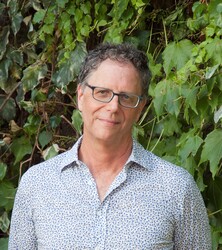 Michael Frank is the author of the novel What Is Missing and the memoir The Mighty Franks, which was awarded the 2018 JQ Wingate Prize and was named one of the best books of the year by The Telegraph and The New Statesman. His essays, articles, and short stories have appeared in The New York Times, Los Angeles Times, The Atlantic, Slate, The Yale Review, Salmagundi, The TLS, Tablet, and other publications. The recipient of a 2020 Guggenheim Fellowship, he lives with his family in New York City and Camogli, Italy.
This program is the Marsha Rivkind Raleigh Memorial Lecture, named for a beloved Jewish Community Library patron and supporter.