Presented by Alina Adams
Click here to register for this free in-person event at the Jewish Community Library, with free garage parking on Pierce between Ellis and Eddy.
Books will be available for purchase and signing.
As her revolutionary neighbor mysteriously disappears during Josef Stalin's Great Terror purges, 18-year-old Regina suspects that she's the Kremlin's next target. Under cover of the night, she flees from her parents' communal apartment in 1930s Moscow to the 20th century's first Jewish state, Birobidzhan, on the border between Russia and China. Once there, Regina has to grapple with her preconceived notions of socialism and Judaism while asking herself the eternal question: What do we owe each other? How can we best help one another? While she contends with these queries and struggles to help Birobidzhan establish itself, love and war are on the horizon.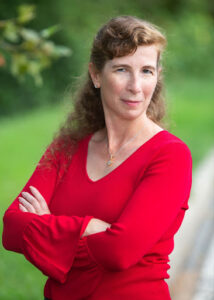 Alina Adams immigrated with her parents from the Soviet Union to the United States as a child, settling in San Francisco. After receiving her B.A. and M.A. in broadcast communications from San Francisco State University, Adams worked in television as a writer and researcher. Her first historical novel, The Nesting Dolls (HarperCollins, 2020), traces the experiences of three generations of Russian Jewish women. Her newest novel, My Mother's Secret: A Novel of the Jewish Autonomous Region (History Through Fiction, 2022), draws from both family experiences and extensive research about a lesser known chapter of Soviet and Jewish history. Adams lives in New York City with her husband and their three children.