Presented by Rachel Biale
Click here to register for this virtual event.
Click here to purchase Lost and Found from Afikomen Judaica.
November 1940: a mysterious explosion sinks the Patria, anchored in the Haifa Harbor. On board are 2,500 Jewish refugees fleeing Nazi-occupied Europe. The British Palestine authorities are ready to deport them. A four-year-old boy disappears while his parents and newborn brother are saved. What happened to him? Weaving together a true story and imagined narratives, Biale's novel Lost and Found wrestles with a wrenching human quandary: can you love a child enough that you are willing to give them up?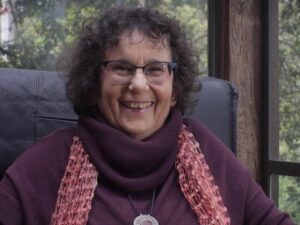 Rachel Biale was born in 1952 on Kibbutz Kfar Ruppin. After coming to the US, she earned a BA and MA in Jewish History at UCLA and an MSW at Yeshiva University. She has a parenting counseling practice and has worked in the Bay Area Jewish community in various capacities for more than thirty years. She is the author of Women and Jewish Law, which received the Kenneth Smilen Award in Jewish Thought from the National Jewish Book Council in 1985. In 2020, she published a memoir, Growing Up Below Sea Level: A Kibbutz Childhood and a parenting advice book, What Now? 2-Minute Tips for solving Common Parenting Challenges. In 2021, she and her husband, David, published a joint memoir, Aerograms Across the Ocean: A Love Story in Letters, a sequel of sorts to her kibbutz childhood memoir.