Presented by Siona Benjamin
Click here to register for this event.
Click here to purchase a copy of Growing Up Jewish in India,
Growing up Jewish in India: From the Bene Israel to the Art of Siona Benjamin (Niyogi Books, 2021) offers a historical account of the primary Jewish communities of India, their synagogues, and unique customs. It offers an investigation both within Jewish India and beyond its borders, tracing how Jews arrived in the vast subcontinent at different times from different places and have both inhabited dispersed locations within the larger Indian world, and ultimately created their own diaspora within the larger Jewish diaspora by relocating to other countries, particularly Israel and the United States. In combining discussions of the Indian Jewish communities with Benjamin's own story and an analysis of her artistic output—and in introducing these narratives within the larger story of Jews across eastern Asia—this volume offers a unique verbal and visual portrait of a significant slice of Indian and Jewish culture and tradition.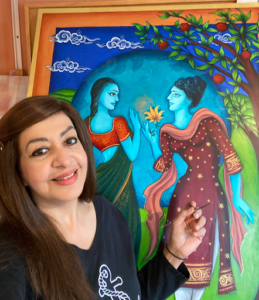 Siona Benjamin is a painter from Mumbai, now living in the US.  Her work reflects her background of being brought up Jewish in a Hindu and Muslim India. She was awarded Fulbright Fellowship 2011 to India and second Fulbright 2017 to Israel. Her work has been featured in The New York Times, The Chicago Tribune, The Philadelphia Inquirer, Forward, The Jewish Week, The Boston Globe, Art New England, ArtNews, The Times of India, The Jerusalem Post and others. The documentary Blue Like Me: The Art of Siona Benjamin aired in 2015. Benjamin's children's book,  I Am Hava: A Song's Story of Love, Hope & Joy, was published in 2021, and Growing Up Jewish in India: From the Bene Israel to the Art of Siona Benjamin, edited by Ori Z. Soltes, was published in 2021. 
Co-presented by SACHI: Society for Art & Cultural Heritage of India