Come visit the Jewish Community Library Pushcart at the Oshman Family JCC in Palo Alto. Beginning in February 2023, the Pushcart will be open on the first and third Wednesdays of the month, from 8:30 AM to 1:00 PM. The Library is a collaboration of the OFJCC and the Library, which is a program of Jewish LearningWorks.
Upcoming 2023 dates are:
Wednesday, April 5
Wednesday, April 19
Wednesday, May 3
Wednesday, May 17
Wednesday, June 7
Wednesday, June 21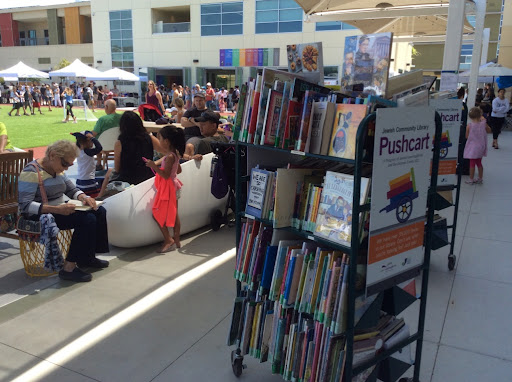 New Location: The library will be located outdoors at OFJCC Park's grass area, behind Building B (administration offices). The address of the OFJCC is 3921 Fabian Way in Palo Alto.
Select from newly stocked popular Jewish literature, probing commentary and nonfiction, children's books, DVDs and more. Request items from the Library's catalog of 40,000 titles, to be delivered to you at the Palo Alto Pushcart. Return materials to the monthly Pushcart, or anytime to the Fitness Center front desk.  Contact the Library with any questions.