One Bay One Book is a year-long conversation connecting Bay Area readers through discussions and events centered around a single title and its themes.
Join the conversation! A limited number of sets of The Man Who Sold Air in the Holy Land are available free of charge on a first-come, first-served basis through the Library's Book Club in a Box program, or you may purchase the book through Afikomen here or another independent bookstore here, or borrow the eBook or audiobook through the Library. For more information about One Bay One Book, write to leah@jewishlearning.works.
The Man Who Sold Air in the Holy Land by Omer Friedlander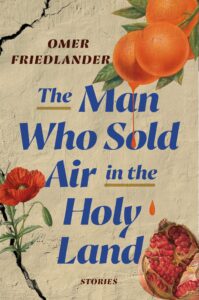 "A beautiful debut by a deeply humane writer. Every story is a vivid world unto itself, intensely felt, and often revelatory." — Nicole Krauss
"Fried­lan­der is fol­low­ing the lin­eage of bril­liant, under­stat­ed Israeli writ­ers like Amos Oz and David Gross­man in cap­tur­ing the par­tic­u­lar­i­ties of Israel through intel­li­gent prose and sub­tle characterizations." — Jewish Book Council
"Friedlander debuts with a dynamic story collection set in Israel that probes the challenges faced by Israeli Jews—national security, relations with Israeli Arabs and Palestinians, religious-secular schisms—with sensitivity and compassion…Friedlander imbues his characters with a deeply felt humanity, and his finely tuned command of emotional tenor will evoke tears and laughter in equal measure."  — Publishers Weekly (starred review)
In his debut collection of short stories, Omer Friedlander takes the reader to the narrow limestone alleyways of Jerusalem, the desolate beauty of the Negev Desert, and the sprawling orange groves of Jaffa, with characters that spring to vivid life. A divorced con artist and his daughter sell empty bottles of "holy air" to credulous tourists; a Lebanese Sheherazade enchants three young soldiers in a bombed-out Beirut radio station; a boy daringly "rooftops" at night, climbing steel cranes in scuffed sneakers even as he reimagines the bravery of a Polish-Jewish dancer during the Holocaust; an Israeli woman monitoring a Green Line checkpoint mourns the death of her son, a soldier killed in Gaza.
These imaginative stories are fairy tales turned on their head by the stakes of real life, where moments of fragile intimacy mix with notes of the absurd. Richly evoking Israel's nuanced complexity and the human need for connection, Friedlander's poignant tales are simultaneously heartbreaking, humorous, and enlightening.
Omer Friedlander was born in Jerusalem in 1994 and grew up in Tel Aviv. He earned a BA in English literature from the University of Cambridge, England, and an MFA from Boston University, where he was supported by the Saul Bellow Fellowship. His short stories have won numerous awards and have been published in the United States, Canada, France, and Israel. A Starworks Fellow in Fiction at New York University, he has earned a Bread Loaf Work-Study Scholarship as well as a fellowship from the Vermont Studio Center. He currently lives in New York City.